Prominent VFX studios have collaborated with a number of film and advertising production companies from the US, Western Europe and the Middle East. Artists working at these companies are experienced in modeling, texturing, shading, lighting, rigging, animation, compositing, matte painting, set extension, FX, matchmoving, keying, rotoscoping, art directing and producing. Some of Serbia's top artists and studios were credited as digital matte painting supervisors, lead modelers, or VFX artists on such projects as Pearl Harbour, the Reader, Shark Night, The Other Guys and Shallows as well as on a number of high-budget TV commercials.
Several sound studios can provide all the equipment and talent for immaculate sound design. Some international filmmakers also decided to tape orchestration in Serbia with local orchestras and sound studios.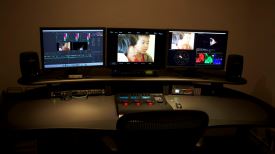 POST PRODUCTION SERVICES
Serbia offers an array of services for high-tech post-production projects. Companies offer Cinevator operating services, digital intermediate, complete post production solutions in 2K and 4K resolution, processing from onset grading, color grading, digital dailies, offline and online editing, DCP mastering, etc.
Following the global development of VR there are more and more companies in Serbia that are developing their skills in the field of virtual reality and are specialized in creating high quality immersive imagery and storytelling. They provide full services solutions and are qualified for world wide assignments.