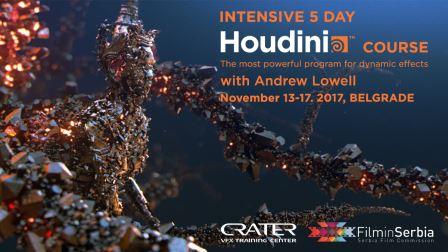 Increasing popularity of Houdini software and its high quality performances in creating 3D simulations are bringing Andrew Lowell to Belgrade this November. Andrew is FX Department Head and Lead Instructor at Lost Boys School in Vancouver credited for visual effects on Thor, Transformers and Suckerpunch, to name a few. Intensive 5 day course in Belgrade from November 13th through 17th will offer 30 hours of training with special focus on challenges in creating fluids. This is an excellent opportunity for all freelance VFX artists and studios, within both film and gaming industries, to advance their skills in Houdini, that has been named best software package available in the market, especially praised for it's tools in dynamic effects. Through partnership with SideFX, Serbia Film Commission and Crater VFX Training Center have created together a program for this course aiming to bring advanced tools and necessary skills effectively deployed in software environment that has become an industry standard. Trainees will be able to learn about aspects, protocols, work processes and experiment with realtime examples.
Detailed course programme is available in our Training and Event section, or simply send an email with your question.
Registrations deadline is November 5th, and  earlybird rate is applicable for registration before September 15th.