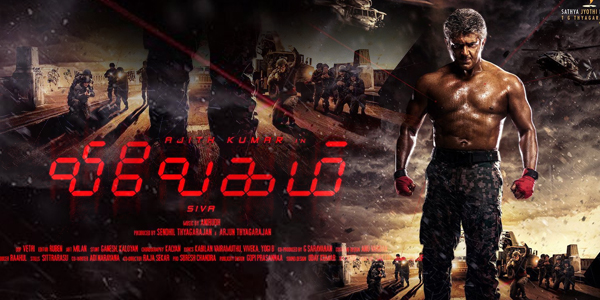 June 2nd, 2017
The up and coming Tamil-language Indian spy thriller Vivegam had fans in a frenzy early May with the official release of its teaser trailer. The film, a big budget feature directed and co-written by Siva and starring the extremely popular Ajith Kumar as well as Kajal Aggarwal, Akshara Haasan, and Vivek Oberoi, has already amassed a large, eager fanbase.
Vivegam was filmed on location around Serbia, Bulgaria, Austria, and India. More than 50 days of recording have taken place in areas around Serbia including in Bor, Belgrade, and Old Mountain, where a variety of fast-paced action sequences and daring stunts have taken place. 
Working alongside Siva and his crew is the Serbian production team Clockwork Productions. Along with the crew of 30 Indian production workers are something between 60 and 120 Serbian crew members, some of which even accompanied the Indian production crew with stunts shot in India. The renowned cinematographer, Vetri, remarked that it was his first time shooting in Serbia and he was delighted with the natural beauty as well as the abilities of the Serbian team. According to Vetri, Indian filmmaking is done very swiftly, and he voiced concerns that the Serbian team may not be able to keep up. Needless to say, he was exceptionally pleased by how in sync the Serbian team was, which enabled quick and efficient work to be done. This isn't the first time Clockwork Productions has been highly praised by Indian productions– director Mani Ratnam also applauded Clockwork for their excellent professionalism and compatibility with his own crew when filming the 2017 romance Kaatru Veliyidai late last year.
The film already has a massive following which is no surprise considering the starring role of Ajith Kumar, one of Bollywood's biggest stars who has an enormous following of his own. Director Siva remarked that the expectations are high with this film, especially in India where most of its following comes from. Only a day after its release, the trailer had a whopping 7 million views.
With the appeal of excellent crews and beautiful natural locations becoming increasingly recognized, Serbia has been attracting more and more big budget Indian productions. Vivegam is the latest large Indian production following Vamsi Paidipally's 2016 comedy-drama Oopiri and Mani Ratnam's 2016 romance Kaatru Veliyidai shot on location in Serbia– and it surely doesn't look to be the last.
Vivegam is set for release in early August of this year.