Selling, marketing and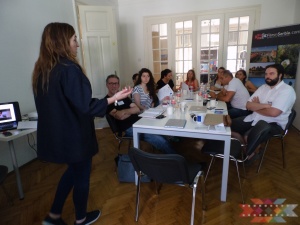 distributing film is imperative to know if you're an  filmmaker today.
Filmmaking is big challenge, but convincing audience to choose to watch your film in the ocean of other choices is much bigger. Therefore Serbia Film Commission organized workshop that demystified essential tools that will help participants to deal with that challenge.
Selling, marketing and distributing film workshop attended 10 participants who learned how to define and reach audience, deal with exhibitors and distributors and make high quality marketing and PR strategy.
Selling, marketing and distributing film workshop program was:
- Box office, trends, events
What does the world look like now for film?
– Defining your audience
– How international works
Sales, Festivals, Deals
– Marketing and PR essentials
For before and during production
– Distribution strategies
Dealing with exhibitors, release strategy and marketing/PR essentials, reading box office numbers
– Essential PR and social Media strategies in film
– Case study srceening
– Work on your own project
 About lecturer:
MIA BAYS is an Oscar winning, twice BAFTA nominated creative producer working across fiction and docs, with a proven track record of launching careers with over 24 years experience in film on over 50 features. Mia works in both production as well as sales marketing and distribution strategist roles for her company Missing In Action Films.