Description
Veliko Gradište is in the North-East part of Serbia, in Braničevo County, on the River Danube that separates it from the neighboring Romania. At the foot of Carpathian and Homolje mountains, the city lies on three waters – the River Danube –  the water corridor, the gold-bearing River Pek, and Srebrno lake. The total area of the Municipality is 344 m2
The most important ones – the River Danube and the River Pek and its coming together with the Danube make up a special natural asset thanks to its rich and versatile biodiversity, Srebrno lake. The area of Veliko Gradište Municipality is predominantly lowland, more than 60% are lowlands (the largest lowland in the Municipality is Stig), 25% of the area features hills, and mountains account for only 15% of the area. The highest point is Lipovice (362 m). Forests, both those in private ownership and those which are public property, are also a natural asset of our Municipality.
Tourist attractions in the territory of Veliko Gradište Municipality are many and diverse:
Beli Bagrem tourist resort with the Silver Lake Center consisting of a hotel, aqua park, a tourist ship, a health zone, tennis courts and golf terrains, etc. is definitely the primary tourist attraction
Srebrno lake coast is regulated and offers many facilities, both on the coast and on the water – a park for adults and children, a walking trail, water sports, a fountain which is since this year located on the lake, etc.
Ram Fortress – a medieval fortification of exceptional importance, with the remains of the Hammam and Caravan Saray
Main street in Veliko Gradište – with the old-town spirit
Nimnik Monastery
National Museum in Veliko Gradište Municipality
Dominant architectural style:
- all neighborhoods feature single-family houses, there are no multi-store residential buildings  except in Veliko Gradište, but, due to a large number of inhabitants working abroad, the houses are large and nicely made.
Main street in Veliko Gradište retained the old spirit and all facades are under the protection of the Institute for the Protection of Monuments. The multi-store residential buildings are in the center of the City and single-family houses are predominant at the outskirts.
Geographical position
GPS:  44°45′N 21°31′E
Population: 17.559
Distance from airport: 120km
Distance from Capital: 110 km
Veliko Gradište is 60 km from Belgrade – Niš motorway. Main road that passes through Veliko Gradište is national road Belgrade – Đerdap.  Veliko Gradište is on the major navigable corridor – the Danube.
Access roads: national road Belgrade-Kladovo and a rail line passes through the Southern part of the Municipality. Main connection of Veliko Gradište and other towns is the national road Belgrade-Đerdap. Veliko Gradište is connected with the surrounding towns with good asphalt roads.
Film Location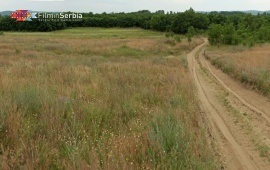 Go to VELIKO GRADIŠTE locations gallery