Description
Vršac Municipality is in the South-East of Vojvodina, in the Southern Banat. Main elements characterizing its geographic position are the affiliation to the Panonia basin, near-border position, and the vicinity of Romania, dispersion of heights in the relief that is untypical for Vojvodina area, developed road infrastructure and good traffic connections with the surroundings.
The area of Vršac Municipality is characterized by the flat landscape of Panonia lowland. With its abundance of geomorphological forms, Vršac Municipality differs from most Vojvodina municipalities. Starting from lower to higher landscapes, this area features the following main morphological units: depressions, alluvial flatland of the River Karaš, loess terraces, loess flatlands, Deliblato sands, and Vršac mountains with its 641 m tall Gudurički peak, the highest peak in Vojvodina. Deliblato sands and Vršac mountains are on extreme ends of the morphological motives of this area and boast a high level developmental potential.
With its picturesque surroundings, large vineyards, copious forests which are oases of peace and clean air, a significant treasury of cultural assets, and versatility of social and cultural life, Vršac has always been and has remained an interesting place attracting visitors. Mountains with their fitness trails are convenient for extreme sports, but also for less dangerous activities: paragliding, hiking, running, fast walking, bicycle riding, recreational walks, etc. The recreational opportunities provided by this most beautiful area are supplemented by hunting within regulated hunting grounds, and most appealing among them is hunting wild boar, does, and pheasants. Fishing enthusiasts enjoy their activities on the River Karaš, Danube-Tisa-Danube canal, and fishponds. A significant contribution to tourist offer is provided by different cultural, economic, tourist, and sport events that regularly take place in this town.
Dominant architectural style:
Vršac boasts well conserved individual buildings and entire ambience units, representing most beautiful specimen of different styles, particularly Baroque and Secession. The refurbishment of facades saved their autochthonous character and highlighted their inventive wealth, thus endowing to the town a special mark. Among these buildings are the buildings with historical, economic, ethnographic, or architectural importance.
Vršac Geographical position
GPS:  45°7′0″N 21°18′12″E
Population: 52.026
Distance from the airport: 100 km from the airport in Belgrade
Distance from the Capital: 84 km from Belgrade
Vršac is 100 km from the motorway.
It is located on the international road Belgrade – Timisoara; Viena – Budapest – Belgrade – Bucharest international rail line passes through Vršac;
Vršac is 35 km from the DTD canal;
The most important advantage  it is compared with the surroundings is its outstandingly favorable strategic and geographic-traffic location, considering that the Municipality is on important international road E-70 which connects two pan European corridors, Corridor X and Corridor IV.
The Aviation Academy airport is in the town itself
Access roads:
From the direction of Romania, the City of Pančevo, Plandište Municipality, Bela Crkva Municipality
Film Location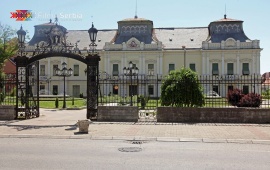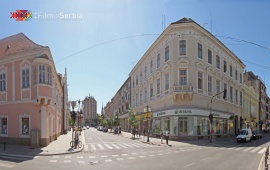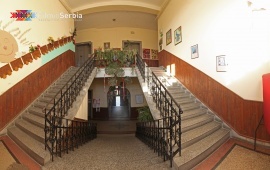 Go to Vršac locations gallery