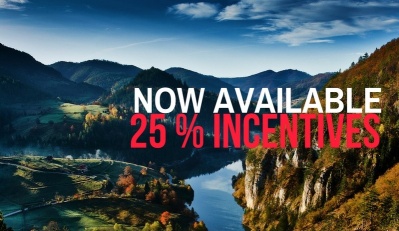 BELGRADE, February 13 – After two successful years of running the film incentive programme Serbian Government adopted new Decree on Incentivising Investments in Production of Audiovisual Works (Film Incentives) last week. The new Decree is offering 25% of direct cash rebate for shooting on locations in Serbia and is coming into effect on February 15. The increase in incentive offer for filming is aimed to push for Serbia's higher ranking on the list of European destinations offering incentives.
After supporting the total of 28 projects in 2017 the Ministry of Economy decided to double the annual budget to 6,7 million EUR available in 2018 for incentivising investments in audiovisual production, while minimum threshold and relevant entry criteria stay the same for most categories with exception of TV series that are required to have minimum spending per episode of 100.000 EUR. 
Ministry of Economy reports that in 2016 total amount of production in Serbia cumulated to 20,8 million eur (2,5 billion dinars) and in 2017 the total ammount of investments made in film production was 31,9 million EUR (3,8 billion dinnars) whiched proved the effectiveness 1: 9,6 of the programme. With these successes in mind, the government has committed to building on these successes and ensuring that Serbia remains an attractive destination for filming of all kinds of entertainment media content.  
Former Serbia Film Commissioner Ana Ilic, now Adviser to the Prime Minister for Digital and Creative Industries has been long standing supporter of the legislation.
"Figures from the previous period show that incentives have attracted 9,6 EUR of production for every euro paid in incentives and created over 2,000 project jobs in first 16 months of implementation. Feature film production alone increased over previous year total productions by 54%. This is a significant boost to the local economy and we are proud of the fact that Serbian incentives are not only supporting feature films and television but are open with opportunities to projects post-production, TVCs and even VR works." – said Ilic.
The programme has been unique for its strand in support of TV commercials that only a handful of countries in the world offer. In 2017 total of 17 international advertising projects benefited from the scheme. Post-production and VFX works are highly welcome to apply with the Shallows and Bahubali 2 being just two examples of the 5 projects granted the incentives, all supported through work with Crater Studio.
This has been a record year for Serbia incoming productions with almost 30 million in expenditure across all categories envisaged by the programme from over 15 territories and markets. The list of features successfully completed in 2017 includes McMafia (BBC premieres on February 28th, serviced by Work in Progress), Intrigo trilogy by Daniel Alfredson and Extinction (Universal Pictures, serviced by Work in Progress) and Incoming (Bennatar/Thomas, Serviced by Red Production) together with South Indian blockbuster Vivegam (Serviced by Clockwork Film production).
Visit INCENTIVES section for full details and updates of the programme.