Description
Bač Municipality (the town which is the name sake of the area between the Rivers Danube and Tisa – Bačka) is situated in the South-Western part of the spacious Panonia lowland, in Vojvodina, even closer to the South-Western part of Bačka. It stretches over 367 km2 and embraces six conglomerations (Bač, Bačko Novo Selo, Plavna, Vajska, Bođani, Selenča) with the total population of  15,292.
Bačka Municipality is close to the country border, its Western border being the River Danube (in the total length of 43 km). A canal that is an integral part of the Danube –Tisa – Danube hydrosystem is traversing Bač and 12 km from Bač, in Vajska neighborhood, there is a lake called "Provala" with a swim area and sand beach; the Municipality is intersected with waterways that do not have natural discharge and ponds and swamps abound.
The sites of tourist and geographic interest in the territory of Bač Municipality include the Bač Fortress from the 14th century, a Franciscan Monastery from the 12th century, Bodjani Monastery from the 15th century, the remnants of a Turkish Bath – Hammam from the 16th century. The bicycle route stretching along Danube in Bač Municipality is a part of the EuroVelo 6 long-distance cycling route;
Dominant architectural style in the center of Bač is in the spirit of the architecture characteristic for late 19th and early 20th century; the Franciscan Monastery features some architecture originating from late Romanesque period and Gothic, Renaissance, Baroque, and Classicism periods; Župna church is in the Baroque style and the monastery adjacent to this church belongs to the late Classicism. Fortress is dominated by Medieval architecture with some elements of Renaissance.  Other parts of Bač and neighborhoods in this Municipality belong to the architectural style characteristic for Vojvodina.
Geographical position
GPS:  45°23′19″N19°14′07″E
Population: 5399
Distance from the airport: 140 km
Distance from the Capital: 140km
Distance from main traffic facilities: Bač is 65 km from Novi Sad, 140 km from Belgrade, and 120 km from Subotica.
Access roads: National road M-18 (Odžaci – Bač – Bačka Palanka)
Film Location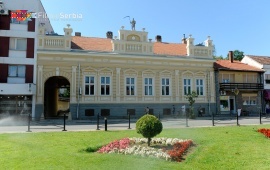 Go to Bač locations gallery