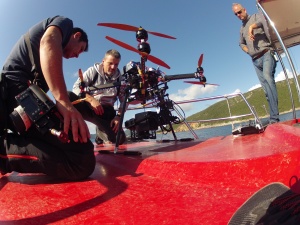 There is no location in Serbia where Helivideo hasn't touched down. Credits for that go to Dragan Trifunović, one of the pioneers of drone sequences on screen. If an air shot left you speechless or discovered a totally different angle of our country, it was most probably shot by Helivideo. To become true professional behind the drone camera, love for aeronautics, expensive equipment and enthusiasm are not enough, but as Dragan points out, hard work, knowledge of cinema language, editing and respect towards all crew members and clients.
Drone sequences have become more and more common in movies and TV series, but also in music and advertising videos. That is the reason audience got completely different perspective of Serbian locations and enjoyed many attractive shots. Which project would you single out as the most demanding and what are the recent productions you are most proud of?
I work with same intensity on commercials, movies, series, music videos, and even promo videos for various industrial purposes and corporate videos. One of the most complicated projects I worked on was the remake of the Papillon, with Charlie Hunnam and Rami Malek. For that movie I had to take off with a large drone from a very small deck of a boat that was shaking a lot, and there were also few shots that required me to fly very close to the actor who was running.
TV commercial for the German supermarket chain Penny is definitely one of the most exciting projects I have worked on in the last couple of years. The whole process took 5 days, and we worked as a team of two. The shooting required high level of precision due to the fact that all scenes took place around downtown, to be more precise in Terazije, Uzun Mirkova and Gospodar Jovanova streets. Hundreds of extras were there, as well as other team members so we both had to take care of their safety when piloting for the best shot. In the end, the clients were very satisfied and we wrapped one of the most outstanding commercials ever made in our country. It was nominated for the LMGI award as outstanding location in a commercial and I believe that partly credits for that nomination go to our drone shots.
What is the most important aspect of a drone pilot's job – flying or working with a camera? What is your drone fleet consisted of? What cameras and drones do you like working with the most?
For a good shot, it is necessary that both actions are well coordinated and done creatively, competently and of course, safely. When the drone is operated by one person and the camera by another one, it is crucial that they are in tune and well-coordinated.
My "fleet" consists of drones of various sizes and weights. Smaller drones have cameras inside with fixed lenses (DJI Mavic, Phantom 4), then there is DJI Inspire 2 with X5s and X7 cameras and exchangeable lenses and a large drone carrying RED and Alexa mini cameras. Besides, there is a drone that carries strong LED lighting for special effects during night shootings, as well as drones with special thermal cameras for industrial purposes.
I prefer working with small and medium drones, because they are easier to transport when you change the location, their batteries last longer, they have various sensors so they are safer for people and objects on the set. Large drones with large camera are more complicated for transport and handling, they require a lot of large batteries and chargers and sometimes it can be stressful to work with them if production is not ready to accommodate all prep work and certainly they are more costly.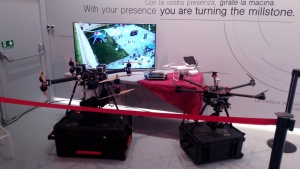 What is your relation, as a drone operator, with film directors and directors of the photography? How do you prepare in order to get the final result?
Before each shooting, we do scouting and location selection, as well as the selection of appropriate equipment and the size of the drone and cameras which are suitable for those locations. In pre-production, my job is to estimate the possibility of making the shots and to anticipate possible risks for people and equipment, following the vision and requirements of the director and director of the photography. Many years of experience in photography and video production allow me to analyze each location and many different ways of making the shot and therefore sometimes I am able to suggest to the director and DOP additional options to make some unexpected sequences.
Is there any difference between working on film and working on commercials? Do you have any colleagues that you work on a regular basis on these team flights?
As I already mentioned, usually there are two people when larger drones are involved. One operates the drone, the other controls the camera. I've learned and got used to doing it myself, and so far clients liked the final result. It's more complicated, but it's somehow easier for me to align my 2 eyes and 2 arms than flying and operating the camera separately. When two operators are working, they have to be ideally coordinated, but in some situations it is definitely easier to shoot in pair. I try to treat every client professionally and give my best, whether it's a Hollywood movie, an expensive commercial or some low-budget shooting for a small local factory.
Have you had the opportunity to collaborate or meet drone pilots from other countries? How does that community work internationally? Are there any trends or new ways of shooting?
I have many colleagues from abroad and we have a very nice collaboration. We always recommend jobs to each other, share equipment or parts of the drones, even during the shootings or in case something goes wrong or breaks etc. Before this pandemic, various gatherings and equipment exhibitions were organized quite often and that is something I enjoy about our community. There are some local and international associations that bring together people who deal with drones, both amateur and professional. In Serbia and neighboring countries, there were various competitions and gatherings organized for fans of RC aircraft and modeling. Unfortunately, since last year, due to the pandemic, all events were canceled.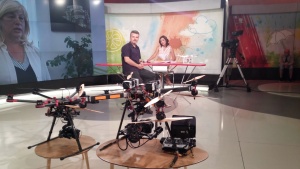 Having in mind that drones gather an increasing number of enthusiasts and hobbyists, what would be your advice for someone who wants to dedicate their career seriously and enter professional world of film drone pilots?
The answer to this question is not simple. Good equipment and desire are not the only things important for success in any business. To become a drone pilot, in addition to good flying, it is necessary to have a solid knowledge of shooting techniques, selection of adequate equipment for each shooting (drones, cameras and lenses), as well as framing and video editing.
In order to have a successful career, you have to maintain the relationship and respect for clients and all members of the production crew, and also to have willingness and self-confidence to suggest different technical and creative possibilities for getting the perfect shot.
What is your favorite location that you filmed on or would you like to film in Serbia or abroad?
I suppose that there is no part of Serbia that I haven't already filmed. One of my favorite locations is definitely Stara planina (Old Mountain). As a drone pilot, I had the opportunity to work a lot abroad, but my favorite locations are Papua New Guinea, Costa Rica, Iceland, the Maldives and more closer to our region the Una River in Bosnia and Herzegovina.