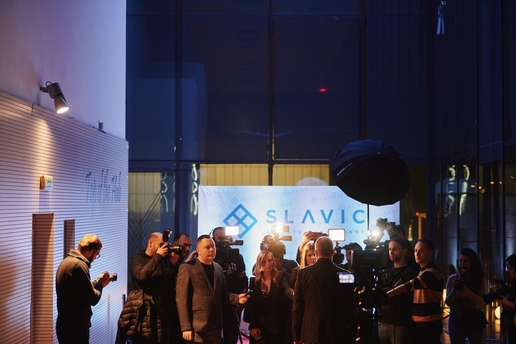 Slavic Artists Management joined SFA in early 2023. Being the first agency representing performers and authors in Serbia, their appearance made huge changes in the industry. With this young team of ambitious ladies we talked about how the job of talent agent looks like, how colleagues reacted to them and what they consider their greatest success.
How would you describe everything that the Slavic Artists team is involved in? 
Slavic Artists Management emerged in 2020 as a completely new venture in the domestic film industry. Recognizing that having an agency and international representation is something without which film professionals cannot operate, the idea for starting such a business in Serbia was born, with the aim of both improving working conditions within the domestic film industry and, promoting film local professionals and artist to the international market. At the helm of our team are agents who, with the help and support of colleagues from the legal and accounting team, and in tandem with clients, have been pushing the boundaries since the establishment of Slavic. In addition to actors, without whose trust we wouldn't be discussing this topic, Slavic Artists Management, as the first local and independent full service talent agency in Serbia, also represents directors, screenwriters, and young talents. By supporting the development and recognition of talents in local and international projects, Slavic strives to provide a high-quality and diverse platform that ensures visibility for performers and authors, with the goal of creating and finding business opportunities for clients.
What does the job of a talent agent look like in our market? 
The role of an agent involves the skill of effective communication and negotiation, an understanding of the inner workings of the film industry, as well as support in the career development of performers and authors. Negotiations that lead to securing favorable working conditions on a project, guiding clients through the entire process from the beginning to the final take, ensuring the successful fulfillment of contract obligations by both the production and the client, are just some of our everyday tasks. Agency work also involves continuous communication with casting directors, production companies, and directors, as well as keeping track of the domestic and international film market. In the end, we can say that a significant part of the responsibility our job entails is the implementation of this profession in the domestic film industry and representing domestic artists as the right choice for the international market.
Who can be part of the Slavic Artists' roster? 
Slavic Artists Management represents established film professionals, but also those who are at the beginning of their journey. The process of onboarding new clients and expanding the Slavic Artists platform is a collaborative effort among the agents. Given that one of the imperatives of our business involves transparent and high-quality communication between clients and agents, the agency's vision is reflected in nurturing partnerships that are mutually satisfying. Additionally, the Slavic team closely monitors the market and opens its doors to young and new talents, which is why a special segment of the agency called 'New Faces' has been created to promote them. Consequently, part of the Slavic roster can include all those who are ready to join us in pushing boundaries, breaking stereotypes, and creating better conditions for the new stories that await us.
Which projects are you most proud of in terms of actor selection? 
We are proud of every domestic project in which Slavic's clients have been involved since the beginning of the agency's work. We are proud of every role that our clients have taken on in English, Russian, German, French, Italian, Spanish, Turkish, and any other language they were required to perform in. We are proud of every challenging role they have effortlessly portrayed. We are particularly proud of the fact that an increasing number of Slavic clients are gaining visibility in foreign markets. We approach each client of the Slavic Artists agency as an individual building their career and striving to achieve their own goals. That's why we can't single out just a few clients or projects as the ones we are most proud of. Through our collaborative work, support, and understanding, we build successful stories in the world of art, and each of these stories brings us great pride and immense joy.
How did production companies receive you, what was the collaboration like at the beginning, and what is it like now? 
In Serbia, talent agency work as a distinct profession is still evolving and undergoing daily transformations. For Slavic Artists Management, as the first talent agency in Serbia, the biggest challenge is to introduce the market to our activities, adapt to changes in the industry, and build positive relationships with productions. Our vision from the very beginning has been to become equal partners in the creation of quality film and television projects, providing a unique platform for talent while also supporting the fight for the rights of authors and performers.
It took time for productions to get used to our presence and realize the contribution that talent agencies can make to the local film industry. Accustomed to existing methods of hiring actors and other authors, it was crucial to demonstrate to productions the value that collaboration with Slavic brings to their business. The persistence, dedication, and expertise of our team, along with the willingness to adjust established practices, contributed to gradually gaining mutual trust. Through discussions, education, and a transparent approach, we managed to show that Slavic can be a valuable partner, and together, we can enhance the domestic market.
Now, after more than three years of operation, we can proudly say that our "collective struggle" for rights and values in the industry has brought about positive changes. Collaboration with productions is becoming more efficient, and Slavic has become an integral part of the actor hiring process, granting productions access to a diverse range of talents. We continue to work on improving our services, keeping up with trends and innovations in the film industry.
We owe great gratitude to all the productions that have supported our work with understanding and have been partners in this vision. Our goal remains the same: to contribute to the growth and development of the domestic film industry, creating a platform for greater visibility of acting talent on the local scene and protecting their rights in the process of creating film and television works. Collaboration with productions has become a key element in achieving this goal, and we look forward to future projects and challenges that we will overcome together.
How do you see the future of Slavic Artists, that is, in what way would you like to work in your job? 
Dedication to all our clients and their careers forms the foundation of our business, both now and in the future. Therefore, we are confident that the future will lead us to new business opportunities and challenges, both in the domestic and international markets. To achieve this, there is still a lot of work ahead of us in terms of networking the agency with the key sectors with which we closely cooperate in the process of proposing and casting actors for projects, as well as other authors we represent. Quality discussions with producers, writers, directors, casting directors, assistant directors, distributors, in order to introduce them to the agency's idea, which did not exist in our region just three and a half years ago and is now becoming an integral part of the film industry in Serbia. Explaining the main processes of our work, establishing the foundation for where each part of the job begins and ends, and adapting all of this to the specificities and needs of our market, which is currently undergoing a transformation. Understanding common interests is of essential importance and a recipe for successful cooperation. Through our business, we aim to create long-term relationships with both clients and productions and become their reliable partners in achieving business goals. Actively working to promote our performers and authors with the aim of contributing to the expansion of the recognition of our clients, as well as the agency itself, beyond the borders of the country and the region.
Every completed project, every successful agreement, every applause that accompanies the client, whether on set, at a premiere, on the street, or at home, is what drives and delights each of us, as we perceive it as a personal success. We hope and wish that this joy will continue to grow in each of us in the future, along with the growth of Slavic Artists Management agency.
For any questions, concerns, suggestions, or new projects, you can reach Slavic Artists on: www.slavicartists.com.
Photo: Jovana Jarebica