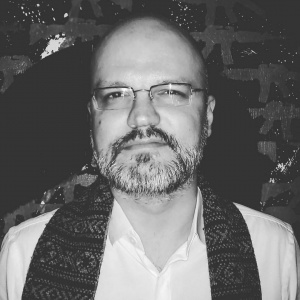 Pandemic couldn't slow down one of the most wanted sound supervisors in the Balkans. During the lockdown he daily supervised two running TV shows, and currently is working on four. Aleksandar Protić Prota is equally successful in sound post-production and as he is as a producer of internationally awarded "AI Rising". Versatile projects under Mir Media portfolio opened the doors for moving into post-producing American TV series, leading to achieving the final stamp of approval with membership in the Academy for Television Arts and Science. We used the post EMMY week to talk to Prota about achievements and future plans.
You are known as serial entrepreneur with a broad range of creative business endeavors and now you are first Serbian to be admitted in the Television Academy, that requires 20 hours of broadcasted program per two years in the US territories. What was the process and motivation behind becoming an Emmy voter?
First of all, it is a great honor being recognized as a National Active Member of the Television Academy. I see that as one of many examples that the creative boundaries of the past are narrowed and almost do not exist anymore. In the peak of the TV era, being a member of EMMY, to me personally, has a greater value than any other academies or societies, with all due respect to the lot of them. The process itself is fairly easy if you have experience and high-quality material that speaks for itself. I hope that in the upcoming years I will not be only a voter but a nominee as well.
All major feature films and TV projects have been sound designed under your supervision. What is the scope of projects and services you are handling in the last two years?
Mir Media Sound Studio covers all areas of sound post-production, from foley to sound design, and all the way to 5.1 mixing. In the last two years we went from a regional front runner, to working on TV shows for US networks, with the help of two production companies including Electric Entertainment from LA led by producer and director Dean Devlin, and Balkanic Media from Belgrade led by Jonathan English.
For TV projects our team consists of 5 core people, with each person dedicated to one part of sound post-production. If we speak about feature films, the number of people engaged is even greater, and for years we have been working on various international, regional and local films in all genres.
How did the pandemic affect your side of the business? Do you see some changes or market disturbances that will influence your future planning?
The pandemic brought the same problem for all, and that is halted or postponed productions. But thanks to the dynamic mobile work space organization, we adapted quickly to the challenges that COVID-19 brought. The principle of our work in the last several years has been similar, meaning that I, as the sound supervisor, am unbothered by where the team is working from, as long as it doesn't affect the safety and the creative aspect.
During the complete (world) lockdown, we have worked daily on two projects. A regional TV show titled "The Tycoon" as well as a show for WGN America titled "Almost Paradise". Other than the challenges brought by the virus and the lockdown, another endeavor was that both of the shows have been broadcasted simultaneously while we were in post-production for them.
Currently we are working on a few regional fiction and documentary programs, as well as the new season of "The Outpost" for CW. In the following weeks, we will start working on the revival of a highly popular show titled "Leverage 2.0″, the first big original IMDb TV show produced by Dean Devlin's Electric Entertainment.
How would you describe the talent pool in Serbia? What is your team like?
After almost 20 years of experience the best asset is our well-coordinated team, as well as new members that join and fit the already established workflow well. It is important for our younger colleagues to understand that sound post-production is not a one-person job, but rather a coordinated teamwork. This year, for the first time, we are opening our doors to interns (students) for our internship program.
Beyond taking care of sound, Mir Media has a slate of feature films and TV series in development. You are very proactive in taking on debutant projects like "AI Rising" that took local industry and public by surprise. What is your take on that? How do you see the combination of servicing films and creating original content?
We are all aware of the boom of film servicing in Serbia. I salute the business approach, as it is beneficial for development of local talents and film professionals. But, unfortunately, in my opinion, there is not enough original content that could be competitive on the international market.
When it comes to Mir Media's slate of projects, the most recent accomplishment is a sales deal with an acclaimed XYZ Films for the debut feature film of young and promising film director Nikola Petrović, titled "Mudbrick", which will be shot in early spring of 2021. In the same period we will start shooting a 20 episode TV show acquired by Telekom Srbija titled "Poseta" ("The Visit"), with a young and renowned theatre director Veljko Mićunović, directing for the first time for the screen.
My passion project which I am a producer and showrunner for, is a docu-series titled "Project Swearing", which is in late development stage, with a young but eminent ex-YU USA based director Maria Juranić.
With the team of Lazar Bodroža and Dimitrije Vojnov (the duo behind the award winning "A.I. Rising") we are in permanent development of several projects, that will surely be in production soon. More announcements are yet to be revealed.