Description
Požarevac is a town in north-east Serbia, at 80km from Belgrade, in Braničevo County, covering an area of 481km2.
It is surrounded by fertile Stiš lowland and three rivers: Danube, Velika Morava, and Mlava. Agricultural land covers 73.38% of the territory of the municipality. The largest potentials of the town lie in the sectors of agriculture, energy, food industry, and tourism.
The points of significant tourist interest in the territory of this municipality include the famous archaeological site of Viminacium, tent replica display of the "Požarevac Peace" signed in 1718, Ljubičevo Horse Farm that was founded in 1853, "Milena Pavlović-Barili" Gallery, etc. For fifty years now Požarevac has been staging the "Ljubičevske konjičke igre" (Ljubicevo Horse Games) event every first weekend in September, and it has the "Milovoje Živanović Days" actors festival as well.
Today Požarevac is a specific urban structure showing a lot of contrasting layers inherited from different time periods: one took place in the first and then in the second half of the XIX century when Neo Classicism style with Neo Renaissance elements dominated the city architecture, which was in the later period to be followed by the architecture of Moderna.
These recognisable venues can be seen in Draže Markovića, Stari korzo, and Veljka Dugoševića Streets and in Trg Oslobođenja. The most important building is zgrada Okružnog načelstva (the County Government Building) that was built in 1888/89 as a diffused and representative dual composition displaying the rich architecture of late XIX century Academism with the stylistic finishing and elements of Neo Renaissance and Classicism.
The second period developed in the 1970s and 1980s in the Socrealistic style. The buildings belonging to this style are bordering main streets of the town and with their linear form and monumental dimensions they give prominence to the access to the central zone of the town.
Geographical position
GPS: 44°37′ 21°11′
Population: 75 334
Distance from the airport: 95km
Distance from the Capital: 80km
Access to roads: M-24 connecting the town with Corridor X (Belgrade-Niš motorway), M 25.1 Požarevac-Golubac-Kladovo (Đerdapska magistrala), regional roads: P-214a, P 103
Contact
Contact person: Siniša Marjanović
Department: Local Economic Development Office 
Address: Drinska 2, 12000 Požarevac
Phone: +381 12 539 691
Email: sinisa.marjanovic@pozarevac.rs
Film Location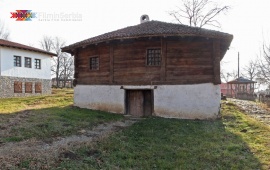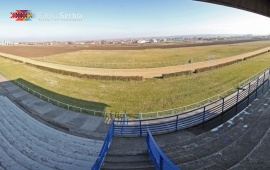 Go to Požarevac locations gallery