Description
Ruma Municipality occupies the central part of Srem region stretching from the left side of the River Sava (in the width of 32 km) towards the North to the slopes of Fruška gora and forming a link between the Pig Srem and the Wine Srem. That is why it is commonly said that Ruma is in the heart of Srem.
It is predominantly lowland, with a rich forest belt in the Southern part of the Municipality, Trskovača pond near Platičevo, Jarčina canal, Borkovac lake near Ruma and Kudoš lake near Pavlovac. The villages in the Northern part of the Municipality are at the foot of Fruška gora.
The sights of tourist and geographic interest in the territory of the Municipality:
Archeological site Gomolava near Hrtkovac on the River Sava (Neolithic period, Vinča culture) is a multi-layer site witnessing local life in different eras. The 45th parallel passes through Ruma, which means that it is situated halfway between the Equator and the North Pole. It is a crossroad of the most important roads and railways.
Dominant architectural style:
Classicism, Neo-Classicism, Secession
Geographical position
GPS:  45°00′17″N19°49′12″E
Population: 30.076
Distance from airport: 35km
Distance from Capital: 65km
National road M-21 Novi Sad – Šabac passes through Ruma and 6 km from the City passes E-70 Belgrade-Zagreb Motorway. Belgrade-Zagreb (connecting Europe and Middle East) and Zvornik-Ruma rail lines are on the periphery of the City.
In addition to motorway E-70 and national road M-21, Ruma can also be reached by the road from Sremska Mitrovica (from the direction of Semberija), the road from Inđija, the local road from the direction of Vrdnik, and local roads from the direction of Stejanovac and Buđanovac.
Film Location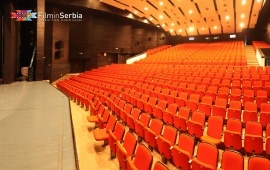 Go to Ruma locations gallery