Desription
Topola is a small city in the central Šumadija region. It is located on the right shore of Kamenica where once stood a large tree with many branches. It is under the branches of this tree that many traders and travellers found a place to rest. First written evidence that there was a settlement here dates back to the time of 1718 Austro-Hungarian census.
The Municipality of Topola is one of seven municipalities in Šumadija County. It covers an area of 365km2with the population of 22,329. The Municipality consists of urban area, the city of Topola with 4973 inhabitants, and 30 rural settlements with the population of 17,358.
The Municipality is an area with interchanging surfaces under meadows, clearings, hills, and mountains. The landscape is interwoven with rivers (Kamenica, Kubršnica, Jasenica), and Topola municipality also boasts two lakes (in Kloka village and in Topola city).
The sites of tourist and geographical interest in the territory of this Municipality include the Medieval Monastery at the foot of Rudnik Mountain, a tourist product called the Šumadija Wine Route (Aleksandrović Wine Cellar and the Royal Winery), two cultural monuments of significance for the Serbian State – the Karadjordjević Family Mausoleum and the Karadjordje City in Topola, the Vineyard Keeper's House with the gallery in which Nikola Graovac' paintings are exhibited, and King Petar's House in which personal items belonging to members of Karađorđević family are exhibited. Besides, there is a business/tourist event called Oplenačka berba (Oplenac Harvest) (taking place for the 50th time this year), and the events such as Sabor narodnog stvaralaštva Srbije (Serbian Folk Art Fair), Lipovac Painters' Colony, Đurđevdanski dani vina (the St. George's Wine Days).
Topola is 80km far from Belgrade, 220km to the south is Niš and 280km to the north is Subotica. Its favourable geographical position as a crossing point of the roads makes Topola an unavoidable tourist destination. Traditional architecture and Neo Classicism are dominant architectural styles.
Geographical position
GPS: 44° 25′ , 20° 68′
Population: 22 329
Distance from airport: approx. 100km
Distance from the Capital: 80km
Access to roads: from the direction of Kragujevac, Aranđelovac, Smederevska Palanka, Gornji Milanovac (Rudnik), and Belgrade (Mladenovac)
Contact
Department: Local Economic Development Office 
Address: Bulevar kralja Aleksandra I 9, 34310 Topola
Phone: +381 34 6811 273
Email: ler@topola.com
Film Location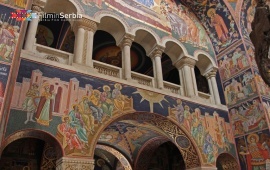 Go to Topola locations gallery