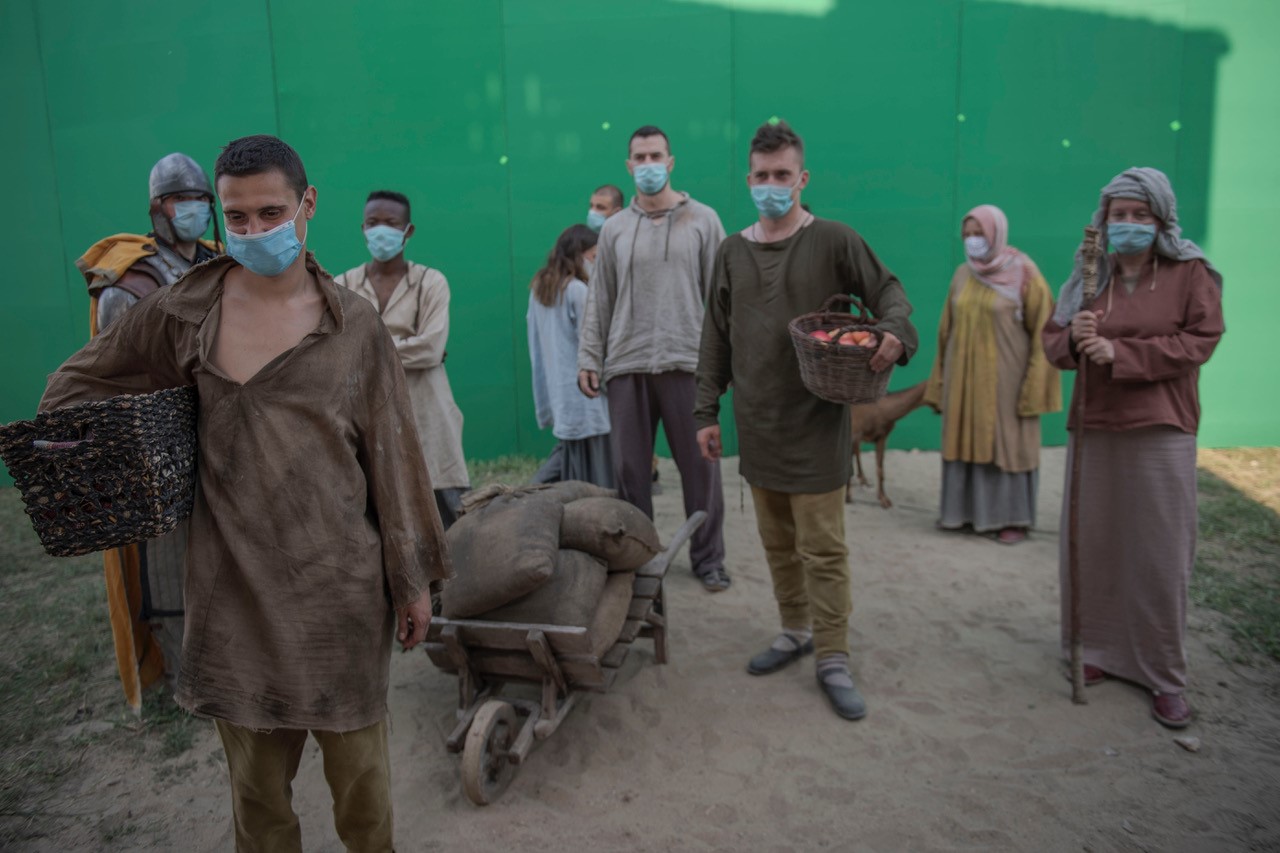 The Outpost set at PFI Studios - Courtesy of Electric Entertainment - Arrowstorm - Photo by Aleksandar Letić
Joint work of members of the Serbia Film Commission, the Audio-visual Section of the Serbian Chamber of Commerce and the Film Center Serbia resulted in document of health and safety measures and recommendations for the safe functioning of film productions during the epidemic of COVID-19 officially adopted by the Serbian Government on May 19, 2020. It is in line with recommendations of the Institute for Public Health "Batut" and serves as a comprehensive guide with recommendations that producers will be able to apply depending on the type of project and organization. The document is publicly available and its implementation should follow all other recommendations for mitigation of measures.
Health measures follow examples from the European practice of national associations and representative film authorities and organizations. They do not represent a definitive practicum for film productions, but should help productions to perform risk analysis and implement protection measures in each specific project. The recommendations consist of 24 general recommendations as well as specific measures for different sectors.
Please visit the website of the Ministry of Foreign Affairs or click HERE to check the latest information regarding entering Serbia
While entering Serbia, all foreign passengers will be required to provide a negative PCR test not older than 48 hours, except of those coming from North Macedonia, Bosnia and Herzegovina, Montenegro, Bulgaria and Albania (as of January 14th, 2021). For persons arriving to Serbia from the United States a negative Antigen FIA Rapidtest is accepted, under the same conditions, instead of a negative RT-PCR test. Citizens of Serbia who are coming from abroad will be required to stay in home isolation for 10 days or to provide a negative PCR test.
The above entry conditions do not apply to people who have been vaccinated in the Republic of Serbia and hold a valid certificate of vaccination and citizens of countries with which the Republic of Serbia has concluded an agreement on the mutual recognition of immunization certificates, who have been vaccinated in said country and hold a valid certificate issued by the competent state authority – Covid vaccine legitimation (states: Hungary, Turkey, UAE, Slovenia**). In both cases person must be fully vaccinated (vaccinated with two doses, or a single dose if vaccinated using the AstraZeneca COVID-19 vaccine and Јohnson & Johnson's Janssen (J&J/Janssen) COVID-19 vaccine);
**The vaccination certificate with the Republic of Slovenia is recognized (including the Vaccine Janssen vaccine by Johnson and Johnson, if at least 14 days have passed since the first dose). Citizens of Republic of Slovenia that have been infected with Covid 19 virus within the last 180 days, as well as those who received the first dose of the vaccine against COVID-19 within a maximum of eight months after infection, are allowed to enter the Republic of Serbia provided they hold a certificate of recovery from COVID-19.
Minors of up to 15 years of age are allowed to enter the Republic of Serbia without quarantine or a negative PCR test if they are accompanied by a close family members who meet the criteria for entering the country without quarantine.
All travelers, no matter their nationality, that are arriving to Serbia form countries of special risk of spread of Covid-19 virus (INDIA) are allowed to enter Serbia if they present one of the following documents: negative PCR test result for presence of SARS-CoV-2, not older than 48 hours from the date of issuing by a competent national laboratory from incoming destination; certificate of completed vaccination issued by the Republic of Serbia, i.e. a foreign state with which the Republic of Serbia has concluded an agreement on the recognition of vaccination or with which there is a de facto reciprocity in the recognition of the vaccination certificate; certificate of overcome COVID-19 disease.
FOREIGN CITIZENS must additionally present:
An e-mail received after registration via following link  www.e-zdravlje.gov.rs, section "Foreigners Surveillance Registration", as a proof of successful registration prior to arrival to Serbia;
Filled in and personally signed 

statement of consent

  of acceptance of quarantine measures at home.
All persons, after entry into Serbia, will receive mandatory quarantine measures for 7 days in home self-isolation with mandatory testing within the first 24 hours from entry and mandatory testing on the 7th day from the start of the measures. Testing will be done by the Institute of Public Health at the expense of the person being tested.
Information on security measures at Belgrade Nikola Tesla Airport can be viewed HERE.
As of August 24, 2020 cultural events with the presence of the audience, such as cinemas, theaters and concerts in cultural institutions are allowed with the restrictions organizers must strictly adhere to. The number of audience must not exceed five hundred. The wearing of masks is obligatory, as well as keeping a physical distance of 1.5 meter or one empty seat between people. A proper physical distance is mandated at open-air events, too.
*COVID-19 Crisis Response Team's decision regarding the allowed number of people at public gatherings doesn't refer to film productions, so the decision will not affect shootings whether they take place outdoors or in a studio.
MOST IMPORTANT GENERAL MEASURES AND RECOMMENDATIONS
Each member of the film crew is individually responsible for working while having any symptoms that may indicate COVID-19, and for following these and other general recommendations during the epidemic;
Avoid shaking hands, hugging and greeting colleagues and practice social distancing during work, whenever possible;
It is obligatory to wear protective equipment during the entire stay on set, except for the cast during filming;
*Gathering in public space is limited to 200 people;
A production member should be delegated to oversee the implementation of all protection measures during production;
In case of suspicion or occurrence of mild symptoms of respiratory infection (fever, sneezing, cough), the team member must submit a statement of the identified symptoms, as well as a proposal for his replacement;
It is recommended to measure the temperature when coming to work. Persons with a temperature higher than 37.0°C will not be allowed to enter facility and will be sent for a medical examination, sampling-swab of the throat and nose, PCR test and isolation until a negative result is obtained;
Installation of disinfection barriers at the entrance to the building, work space, studio, etc is obligatory;
Installation of non-contact disinfection dispensers for hand disinfection with a products based on 70% alcohol at the entrance to the building and film set, according to the schedule of movements in the building;
Provide pocket dispensers of 70% alcohol-based disinfectants for all key team members, for more frequent hand disinfection;
Create strict chain of communication and movement that minimizes unnecessary contact between different team members and movement between production offices, the base camp and on set to reduce contact with different surfaces (this means that each department is handling only equipment that is necessary to perform their work). Determine which of the team members can work from home and is not necessary on the set all the time;
Protection measures plan is distributed to all members of the team as annex to work order;
Each member of the team is obliged to sign the receipt of the protection measures plan and confirm that he is familiar with all the rules of protection, and that has been properly instructed how to apply measures until the end of the project;
Production will place in formation on health protection measures in visible places in common areas (make-up room, catering area, corridors, entrance to the building) and can use general  protection measures in English or posters in Serbian;
Report any change in your health condition (sore throat, fever, sneezing, coughing, etc.) to the medical staff at the film set;
Provide personal protective equipment for all team members according to the job description specification, degree of risk and length of stay on the set;
It is very important to properly dispose garbage and a number of positions so that hygiene is maintained in accordance with the recommendations for cleaning and disinfection of the area where COVID-19 patients did not stay;
Perform as many activities as possible in the pre-production period remotely and through online conference systems.
PERSONAL PROTECTIVE EQUIPMENT THAT PRODUCTION NEEDS TO PROVIDE
Protective medical masks
Visors for the hair and make-up, costume and sound department
Protective non-sterile gloves
Hygienic products for space maintenance
Hygienic products for individual use (composition: soap and disinfectant with 70% alcohol)
Trash bins for disposal of used masks and other PPE should be placed next to the entrance/exit doors. All waste that includes used masks and gloves is disposed in a bag that must be carefully tied before disposal in a container
RECOMMENDED METHODS OF ADDITIONAL PREVENTION (DEPENDING ON GENERAL MEASURES TO BE PRESCRIBED)
Testing team members before filming
Testing of local team members is mandatory for those team members who will be at a distance of less than two meters during filming and will not be able to wear a protective mask due to the need to film the scene (cast, stunts, H&M, costume).
PCR tests for corona virus, at the personal request of Serbian citizens and foreign nationals, will cost 6,000 dinars (50 EUR) throughout Serbia. Testing is still free for students and minors.
PROTECTION MEASURES IN STUDIO
Before and after each project, studio space must be thoroughly cleaned
Wherever is possible, place physical barriers / partitions for protection
Make sure that the space is well ventilated (natural ventilation) several times a day
The presence of crew members on set in both studio conditions and on locations are limited to essential crew members with remote monitoring provided to others with established communication channels
Transport
All transport service providers are obliged to follow the recommendations for public transport:
It is recommended to use own vehicle car/motorbike/bicycle when transporting to the film set
For transport of groups in a van, it is recommended that everyone wear masks and gloves
Before and after each transport, the vehicle should be disinfected and ventilated
The team transported by van has an assigned driver who exclusively drives the same people throughout the project
Props
It is recommended that props brought from different sides be stored in a central place where they are thoroughly cleaned or disinfected before use
All picture vehicles must be disinfected before shooting
Hair and Make-up
Follow the official recommendations for hairdressing and beauty salons:
Enhanced hygiene measures in the make-up room, all items, furniture and tools used between different people
Provide personal make-up brushes and hygiene products for each actor
Make-up artists, hairdressers, stylists, costume assistants may wear goggles or visors due to the close contact with the actors
Catering
Lunch is served exclusively in individually packaged meals (buffet serving stile is not acceptable)
Self-service is not permitted, people who work in catering will be serving drinks and lunch
Drinks are served strictly in individual bottles, it is recommended that they are labeled to reduce the possibility of confusion among team members
Self-service coffee stations, snacks, fruit and snacks that are not individually packaged (bulk snacks) are not acceptable. Only individually packaged products will be allowed

Serbia Covid-19 Recommended Protocol for Film Crews