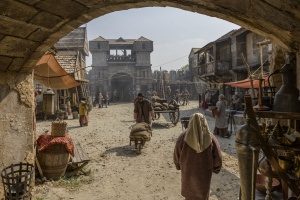 Dean Devlin from Electric Entertainment explains how Serbia quickly became the obvious home for Season Two of The Outpost because they provided world class facilities at PFI Studios, low costs of production and most importantly a competitive rebate on production spend.
When was the first time you heard of Serbia as a possible filming location and what was your motivation to come here? What was the key factor in deciding to move "Outpost" from US to Serbia?
We relocated the show from the US for Season Two and had scouted a few other countries before deciding on Serbia. When we met with producer Jonathan English from Balkanic Media, who is based in Serbia we quickly saw the benefits of bringing the show there.
The entire season of 10 episodes was shot in Serbia, including the postproduction. What was your experience with Serbian crew and local companies so far?
All of Season Two has been shot in Serbia which comprises of 13 episodes in total. The majority of post-production took place here. We were working with a team of four editors, a post production supervisor and several assistant editors in Belgrade. In addition, the entire Editorial staff were all local Serbians. We were doing sound editing and visual effects with Fried Pictures in Belgrade, who were handling about half the entire VFX on the show. There were many more people on the crew who are Serbian as well. We've also hired two local directors to do four episodes plus another Hungarian director. We were truly impressed by the talent and experience of local people we met in Belgrade. There is an established film industry and people really know their craft there. We've ended up being a large production with about 150 people in the technical shooting unit plus cast and another 50 – 100 extras per day. The whole production was based at PFI Studios which is a great facility and also had a backlot available for us to build a large exterior set. We were based at the studios for approximately 8 months and also shooting on location in and around Belgrade. The production has been shot for just over 18 weeks, 91 days.
What is the biggest advantage of filming THE OUTPOST in Serbia? Has it influenced the creative process and looks of the new season in any way?
Shooting in Serbia had a tremendous impact on the production value and entire look of the show. We were thrilled with the results we have seen since early cuts of some episodes. In Serbia, we've been able to achieve a level of production scale and polish that made The Outpost look like a new show. Everything form the sets, costumes, props, cinematography, and lighting made the whole production look fantastic.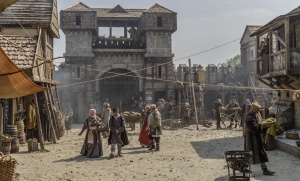 Do you see area in which Serbia film industry can improve its performances or how local governments can support film industry more?
So far we were very satisfied with all the support we've received. The process of applying for the rebate was straightforward with all the companies involved from Balkanic, to Crow RS who was handling the rebate, to yourselves at the Commission and even support from the Prime Minister's office has been instrumental in helping us to establish and run a very smooth production. Training continues to be a key area that we would like to help more with, as more and more projects come to Serbia, creating more skilled labor is key. With Balkanic we established a trainee program for the production and have in total about 25 trainees employed on the show across different departments. Otherwise the overall support has been extremely good.