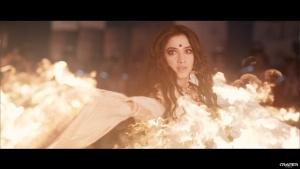 One of the most successful names of Serbian VFX industry, Crater Studio is already well known in the international arena. Working on Hollywood and Bollywood titles have motivated them to always strive for improvement. Following the latest trends in technology they recently became the first studio in Southeastern Europe to receive TPN certificate. Milovan Mladenović, executive producer and partner in Crater Studio is sharing with us all their fresh achievements.
Firstly, how are you managing the lock down and pandemic in the studio? Remote work is nothing new in the world of postproduction and visual effects. Were you affected with postponed releases or start of productions?
First reaction was to quickly and efficiently adapt to the pandemic so we adjusted our existing workflow and switched whole our operation to work from home, seamlessly. In a way remote work is inherit in our business as we have been working for US and international markets since studios inception and it's important not to skip a beat in our line of work. So the ongoing projects were not affected in any way. However, communication with clients on ongoing projects was a bit slow during the first few weeks so the deadlines were also extended, and starts of productions were postponed. Since June, we started getting new inquiries and took on new projects.
Tell us more about the most recent projects you were working on? What is you line of work and markets that clients come from?
As a company, we are lucky to have clients and projects coming from various parts of the globe. After working on Hollywood titles like Point Break, Lemony Snicket's: A Series of Unfortunate Events and The Shallows we have, likewise, developed great relations with Chinese and Indian production companies and filmmakers on blockbuster titles like Airpocalypse, Lost In Russia, Thugs of Hindustan, Sye Raa Narasimha Reddy, Saaho, and are currently working on VFX for upcoming Indian films Shamshera and Jaan. With the team we have we are capable to take on feature film, commercials and new media content including AR/VR and even theme park rides content. While exploring new markets and new technologies, we believe in long lasting relations we built over the years and acquire some new ones and to work with animations and other exciting works. We stepped up our partnership and co-produced an award winning animated short Pig on the Hill, narrated by Pierce Brosnan with Ignite Animation from California.
The sequel of Don't Breathe that recently wrapped shooting in Serbia is a successful example of a film that combined location and VFX services in Serbia. What do you think of that offer, now with upgraded security protocols, what is a profile of projects that can benefit the most from this package?
Don't Breath 2 is a great example. Many other types of projects can benefit from services offered in Serbia, now and in the near future. We are aiming at low to mid-level budgeted films, TV series and other content that can benefit from a combination of affordable yet high-end services in Serbia–world class visual effects, highly professional and skilled on-set supervision, highest security standards like TPN and ISO. It won't take long for new technology including Virtual Production, LED walls to be available in Serbia.
The pandemic coincided with launch of your first R&D project with Faculty of Dramatic Arts and exploration of the virtual production. Without sharing too much, as project is still in development, where do you see yourself with this new project?
The pandemic has gotten us rethinking the utilization of our current and future resources, including the mentioned VP. We believe that the content will have to adjust to the situation-this is where VP comes in handy. Traditional shooting and set time is not really necessary in order to create new content. Movies and series have started to be shot in VP studios with LED walls and VP technology. We joined forces with a team of researchers from academy and our studio veterans in developing VP solution that would be able to respond to less ambitious budgets and save time in long postproduction months. We are combining real-time rendering and game engines and hope to be able to demonstrate soon what have developed.
You also used these challenging times to invest in upgrading your security protocols and acquiring TPN. What kind of project do you plan to focus on now that you are part of Trusted Partner Network. What services and capacities will be expanded?
TPN was introduced as a security standard in 2018 and quickly became requirement without which a VFX or any other content handling facility cannot be entered into majors' vendor list. We already had ISO 27000 and decided to level up in order to demonstrate our dedication to high end service quality and continue working on titles coming from major studios. Crater Studio is the only TPN certified studio in Southeast Europe. We've already worked with Columbia and WB, and constantly pitch for projects looking out for a right project to come our way. The first response from clients when we got TPN was great, and we expect to establish new ones as TPN is being adopted by more and more film production companies, MPAA members. We anticipate that TPN will enable us to attract more work on feature films and in return that will enable us to invest in our team development, grow in our capacities and services.
What is the next release that you are looking forward to?
It will definitely be DB2.