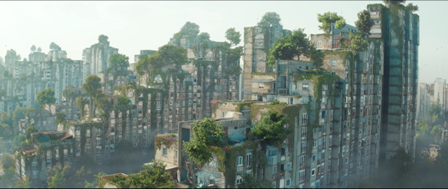 January 23, 2019
Belgrade locations have been incarnated as Paris, Moscow, Rome, Barcelona, Baltimore, Stockholm among many other cities through hundreds of commercials and features. In collaboration between German Serviceplan, Tony Petersen Film and Serbian Emote the new commercial for German retail chain Penny brings a new very organic and highly inspiring face of Serbian Capital.
Campaign aims to raise awareness of organic products and features stunning set design works in combination with CG and VFX done by Liga01 / Sehsucht. The chant song of the video is led by German queen of pop Nena who's visit to Serbian capital draw attention of small number of paparazzi.
Four days of shooting included the very heart of Belgrade downtown, famous New Belgrade "blocks" ending in the final scene of lavishly green train bridge over Sava river. Director Martin Aamund and DoP Julian Hohndorf with sort of a trademark in shooting massive scenes, inhabited over 400 extras in the main scene making it over one thousand extras in the entire project. The number of people in all departments spanned between 150-200 on each day which is a rare case for a TVC and there were doubts that Belgrade can pull it off, but Emote did it.
"This was the most ambitious project that we have ever completed in the city downtown due to the fact that a lot of greenery you see is real set dressing. The main kudos for this go to production designer Tommy Stark and local production designer Sanela Spajić and their mutual team. Liga 01 /Sehsucht than added some of CG magic in the establishing shots, inspiring us to see Belgrade in the new eyes", says Marija Marković who line produced TVC on behalf of Emote Belgrade.
This is one of the more than 50 TVC that has benefited from 25 % Cash Rebate.
The abundant scenery and number of details in this TVC is such that we only hope to see more spin offs and inside stories. In the meantime enjoy the full video and behind the scenes gallery.
Agency:  Serviceplan Campaign
Client: PENNY
Production: Tony Petersen Film GmbH
Exec. Producer: Volker Steinmetz
Director: Martin Aamund
DoP: Julian Hohndorf
Director of Sound: Thomas Martin
Audio Production:  Jesper Gadeberg / Sizzer
Post Production / VFX: Liga01 / Sehsucht
Service Production: Emote
Exec. Producer SRB: Bogdan Petković
Line producer SRB: Marija Marković
Production Designer SRB: Sanela Spajić
Location Manager: Kristina Marković