We are launching Inside the Industry section to share experience and offer insight into the production development and chance to hear it from people who worked on biggest project filmed here, both foreign and domestic. To start the story, we chose to speak to professionals most relevant for locations in Serbia – scouts and production designers. The location department is still carving within production teams in Serbia as productions grow, so we chose two of our members Stefan Todorović, location manager and Nenad Ždero, production designer for joint interview. To jumpstart the conversation, we asked them the obvious question – what are their 5 favorite locations in Serbia.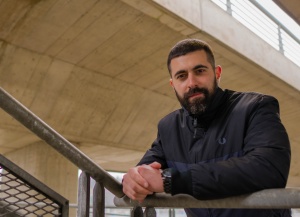 Stefan: For this occasion, I choose locations which are attractive for filming, interesting and challenging for me in a certain way. Those are: Old Mountain (Stara planina) – since I prefer shooting in nature to city conditions, I always get thrilled with its landscapes and beauties of its nature – mountain tops, abandoned villages, lakes, waterfalls and forests. Speaking about villages, there is another location at Old Mountain I really love – the stone village of Gostuša, very cinematic place with unique architecture. Most of the houses have preserved the authentic look from a few decades ago, which can be quite interesting, especially for filming; Tara Mountain – its famous lookouts, stunning Perućac and Zaovine Lake, interesting roads and tunnels, meadows …; New Belgrade "Blocks" – an authentic part of the city that offers dozens of possibilities but also eternal complications during filming, and Vratna Gates in Eastern Serbia.
Nenad: Scouting combines two things I love most – photography and being outdoor exploring hidden places and new locations. My choice for 5 best filming locations in Serbia are: Old Mountain (Stara planina), because its nature is so vivid, providing many different unpredictable experiences; Royal Complex (Stari i Beli dvor) – luxurious buildings in which each room tells new story from our history; Turkish Bath – oriental heritage, so exotic, surprisingly placed in Belgrade Downtown; Deliblato Sands – full of diverse landscapes and at the same time mystical; all abandoned factories – places always ready for new adaptations where I can let my creativity spread around.
Which project was your biggest challenge? Which location was hardest to adapt to your creative ideas?
Nenad: Certainly, most challenging for me was working on the Bollywood production Baaghi III, mostly due to the size of the project and its complexity. Ambitious goals were set at the beginning, as well as high expectations based on the previous major successes of the first two parts. Preparations were done remotely – Indian crew had already started filming there, while here, we were at the beginning of prepping in Pančevo. The biggest challenge for me as a production designer was the adaptation and transformation of the Pančevo Glass factory into a Syrian village with streets, squares, interiors on the 4000m2 lot. It took a lot of creative work and ideas to make it as an authentic place in Syria, but with the support of the local production company Clockwork Film Production, already experienced in working with Indian productions, and the incredible dedication and professionalism of the construction team Mega decor, everything was easier to accomplish.
Baaghi 3 turned out as another in a series of extremely successful Bollywood blockbusters shot in Serbia. You had quite a big playground there. What was the size of your team and tasks that you achieved for this project?
Nenad: That's right, Baaghi III has made tremendous success in India, and I am personally very proud of that, although it was hard to work on such a big project and co-ordinate different units and their tasks. My production design team was quite large, sometimes counting up to 70-80 people on set. During prep, three production design studios were working in parallel and succeeded to build Syrian village on a total area of 4000 m2 in just three months.
Stefan, how was it placing the new season of the Seal Team into Belgrade streets? Were Belgrade authorities ready to support production team in every aspect, and which requirement was hardest to supply?
The whole process was really interesting, considering that the requirements of the production were quite complex from the very beginning. We participated in the realization of four episodes and the fact that the first episode and the story is actually taking place in Belgrade, was supposed to "open" the third season, got as all very excited with a fair amount of pressure and organizational challenges. At first location scouting with production team, we heard so many ideas that sounded like nobody from the city government will ever let us bring them to the screen. The craziest among them was the idea to land a helicopter on Nikola Pašić Square in front of the National Assembly and shoot some sequences of chases and turning cars there, too. Indeed, Belgrade City authorities had so much understanding for what we wanted to achieve and during shooting provided us all necessary logistical support and coordination.
How many people were in the Location Department of the Seal Team crew?
Location department consisted of four people, but we had huge help from people who worked in other production departments.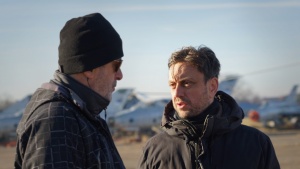 Nenad, how would you describe Serbian production design and art department and why they are jewel in our crown? Is there something new in the department that world should know?
Serbian film industry, thanks to our glorious production history, as well as great success of local production companies working on foreign projects filmed in Serbia, is becoming recognized worldwide. I certainly think that apart from the VFX, our biggest asset is the production design sector. It is a sector with decades of knowledge and craftsmanship and experience on the domestic and international scene.
Are we ready for some big Hollywood project? What would you like to do next?
Nenad: We are well on our way to bringing some huge project to happen, thanks to our capabilities and capacities, but I feel we don't have enough resources yet to bring out some Hollywood blockbuster. Maybe this is something I would love to do next, but before that I would very much enjoy taking part in some SF project.
Stefan: I think that our crews could handle serious Hollywood projects, considering the experience of a large number of domestic film workers. It is quite common situation for foreigners who come to film in Serbia for the first time to be surprised by the attitude towards work and professionalism of our teams. I guess it has something to do with the prejudices they have for many reasons, unrelated to our work. Speaking from the position of location manager, I would like to work on an action movie because of the challenges such projects offer.